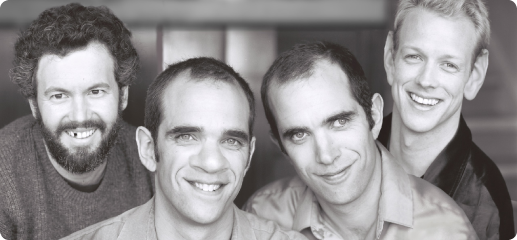 You may remember that in January, I had invited Kasper Hauser, a noted San Francisco based comedy sketch team, to perform with me at Cobb's Comedy Club. 
But if you attended that show, YOU WILL NOT REMEMBER KASPER HAUSER AT ALL, because I unceremoniously booted them from the show because I talked for too long before inviting DR. ZAIUS TO PERFORM AS MARK TWAIN. 
Needless to say, they were really angry about it. They trashed the whole backstage area. They urinated five hour energy drink all over the carpet and burned all the spare Dr. Zaius wigs with fire. Then they took the lunchmeat from the catering tray and tried to garrote me with it. 
It was ugly, but I knew I deserved it. So even though my neck was all lunch meaty, I made them a promise: I would come back, and we would do a show together. 
AND THAT IS EXACTLY WHAT IS GOING TO HAPPEN ON SUNDAY, 4/29, when I and the four friends called Kasper Hauser return to Cobb's Comedy Club!
Technically we are coming back to steam clean the green room carpets and sofa as part of an agreement we made to avoid a lawsuit.
But when we are done, we just may have some time left to perform for you the long-awaited…
JOHN HODGMAN/KASPER HAUSER REUNION SPECIAL
I really hope you will join us, as it will be a fun time and a COMPLETELY DIFFERENT show from what you saw in January. 
If you do not know the work of Kasper Hauser, you must immediately listen to their now-classic STORIES FROM THIS AMERICAN LIFE, above. 
If you do not know the work of me, why are you here? You really use the internet in a weird way. 
That is all. 
btx91 likes this
alythebird likes this
luau-catering reblogged this from hodgman
tcheeky34k reblogged this from hodgman
dresshiredublin reblogged this from hodgman
seodublin77 reblogged this from hodgman
voltairediamonds reblogged this from hodgman
standupportal reblogged this from hodgman
inturnaround likes this
kvg reblogged this from hodgman and added:

See you there!

marknoonan likes this
thegordianknot likes this
amateurpolymath likes this
gatsbylives likes this
pleasedontsqueezetheshaman likes this
hodgman posted this